According to the data from the World Tourism Organization leading up to the pandemic of 2020, tourism is the world's largest and fasted growing industry grossing multi-billion revenue each year and as much as 900 million international arrivals. That is a lot of people stomping the grounds of our already fragile planet. 
As a result of this, responsible tourism is gaining popularity with a huge increase in the development of new properties and operations that enable eco-conscious travelling. Even mainstream tourism has taken on certain elements of this but it still leaves many questions unanswered and a lot of work to be still done towards lowering the carbon footprint and pollution left behind.
How it all began
Ironically, the beginnings of ecotourism can be found in Africa's nature tourism. During the 20th century, a vast area like the Kruger was put under protection with local inhabitants being forcibly removed to make room for reservation areas. Unfortunately, this left certain tourism regions isolated by communities, leaving them unable to hunt, graze herds or source out food and building materials.
The problems kept growing exponentially, there was a need for a different approach which came from such forward-thinking pioneers as the founders of Wilderness Safaris in Botswana and the Varty brothers in Londolozi. The result was a pioneering partnership forged between the government, private business, and locals – ground-breaking project such as Phinda in KwaZulu-Natal were started and degraded farmland was eventually returned to its original state. Soon, others followed suit, particularly in the region of Eastern Cape.
Today, Africa is a leading country in the field of responsible tourism and the only country in the world that has a "fair trade" mark for its tourism products. The following list offers a general resource and a selection of destinations to make your ultimate South Africa eco-trip.
General resources for green travel
As a great starting point, it's good to have some general information before you decide to embark on your journey.  The following websites offer valuable wide-ranging information on sustainable travel. In case you need more sustainable resources, tips and explanations on how to travel in an eco-friendly style, visit www.frommers.com/planning.
www.responsibletravel.com is a great place to find sustainable travel ideas. The site is operated by a representative of ethical tourism within the travel industry, and all operators working on the site have met the company's strict membership requirements. They are also co-sponsors of the international Responsible Tourism Awards nominated by tourists who recognize individuals, companies, and organizations in the travel industry who strive to make a difference.
Another useful resource is renting a free transfer car as your means of transport on the journey, which is not only far more cost-effective, but also greener as this type of journeys commonly consumes less fuel than the standard rentals. Their service is new to South Africa and functions so it connects rental companies that need to move cars from one city to another with people looking for a one-way rental. The driver "rents" the car for as little as R1 a day in return for relocating it, and the rental company gets a free driver.   
www.greenstop.net is one of many sites that offer "eco-worthiness" reviews for every entry and www.greenhotels.com provides recommendations for green-rated accommodation around the world that satisfy the company's strictest environmental requirements. 
www.ecohotelsoftheworld.com is another worthwhile source of information as it is an independent guide that also allows readers and visitors to contribute. And www.environmentallyfriendlyhotels.com offers an additional source of information for green accommodation options and ratings.
Wilderness Safaris, South Africa
Thanks to their massive efforts in responsible tourism especially in Damaraland Camp, Wilderness Safaris have won numerous awards for their achievements that include a win at the Imvelo Awards for Responsible Tourism in the category Best Overall Environmental Management System. Another camp
Adding to a long string of achievements (including a highly commended recognition for their Damaraland Camp in the International Responsible Tourism Awards), Wilderness Safaris (www.wilderness-safaris.com) clinched a win with their Skeleton Coast Camp in 2008, winning the category.
Madikwe Game Reserve 
In the past, Madikwe used to be kilometres of overgrazed farmland until 1991 when it was turned into a 185,250-acre reserve, fourth largest in South Africa. In the course of the next 6 years in a project dubbed Operation Phoenix, the largest game translocation in the world. You can book your accommodation at Buffalo Ridge Safari Lodge, the first fully owned community safari lodge in South Africa, or Thakadu River Camp, also the ownership of a local community.
&Beyond, Africa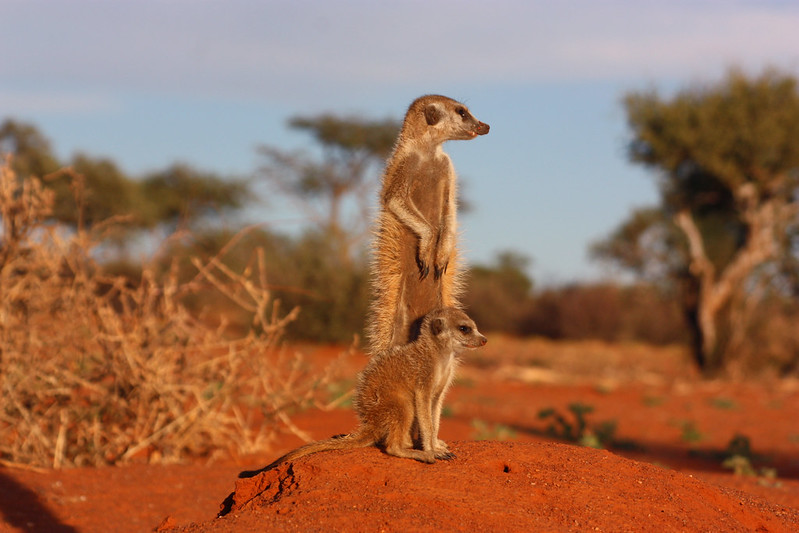 In addition to rehabilitating an enormous number of wild animals at its 56,810 acres of land, &Beyond has done stellar work with the Africa Foundation that helps people living close to protected areas. In the course of their 14 years of existence, they have raised over $6 million and won some really important awards. 
Tswalu Kalahari Reserve, South Africa 
Deeply devoted to Fair Trade Tourism principles, Tswalu succeeded in rehabilitating 38 overgrazed cattle farms and transforming them into the largest privately owned reserve in the region, restocking it with cheetah, rhino and the endangered wild dog. 
Ant's Hill, Waterberg
Waterberg bush villas are prime examples of eco-lodging with their waste disposal, water recycling, sourcing locally produced food and energy management. They were one of only two African spots awarded four stars in this year's Eco Hotels of the World competition. 
When it comes to eco-holidays in South Africa, the country is simply a true paradise for eco-travellers as there are many green destinations, accommodation, attractions and activities in this vast and beautiful country.